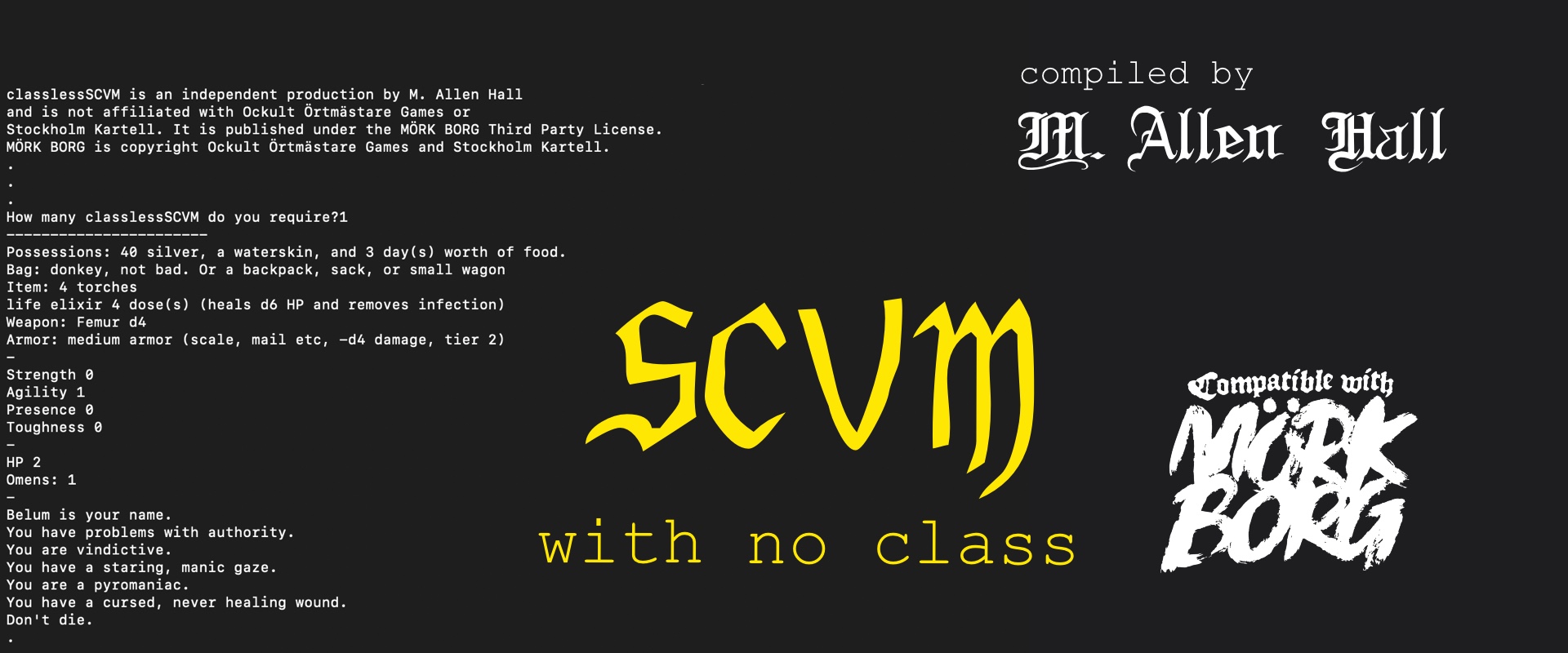 classlessSCVM
A downloadable character generator for macOS
Getting ready for the Goblin Grinder? Your friends want to take a dip in the Rotblack Sludge? Venturing into Galien's Tomb? You'll be needing some extra character sheets, and classlessSCVM has you covered.
classlessSCVM is an automatic character generator for classless MÖRK BORG characters. It outputs character "sheets" as simple text, perfect for copying into a chat channel during game play.

Character attributes are created using the '4d6 drop lowest' method, and they are not given any of the optional character classes. If you are looking for characters with class, you should check out Scvmbirther (Scvmbirther is much cooler than this generator).
Options for your character generation needs:
1. Download app. Open app. Click button. Don't die.
(App is currently MacOS only. Windows app will be posted soon!)
2. If you prefer to not download the executable, or if your computer's anti-virus program is giving you a hassle, you can download the Python code on GitHub and run it in your IDE of choice. I recommend using the code with the GUI.
3. If you do not have an IDE (or don't know what that is), you can go to Online Python. Click RUN and then expand the lower window to behold your SCVM in all their glory.
LEGAL:
classlessSCVM is an independent production by M. Allen Hall and is not affiliated with Ockult Örtmästare Games or Stockholm Kartell. It is published under the MÖRK BORG Third Party License.
MÖRK BORG is copyright Ockult Örtmästare Games and Stockholm Kartell.
Download
Click download now to get access to the following files:
classlessSCVM.app.zip
8 MB